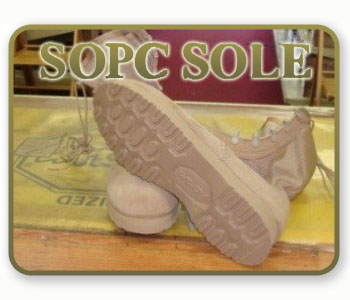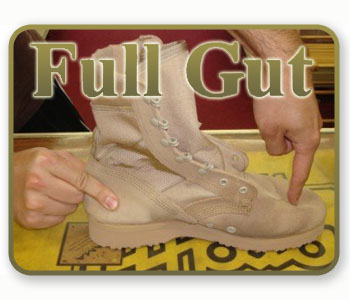 Our Class A Shine
Our shining is done by hand. We use only water and kiwi (brand of polish). We offer three types of shine:
Regular Shine: For used boots previoulsy shined with polish only.

Strip Shine: Mostly for brand new boots or boots that were never shined before.

Machine Strip and Shine: We only machine strip boots that have been previously painted with paint or boots that have been shined with Seal-a-shine or leather luster. These products are not good for your boots and will crack the leather surfaces, leaving white creases as you walk.
Our SOPC Special
We offer SOPC, Special Operations Preparation Course, Special for soldiers going through SOPC or any soldier looking for very light, comfortable boots. The SOPC greatly reduces weight and adds more comfort for long distance marches. Here's how it works:
Resoling: SOPC Special boots are resoled using our softest and lightest sole that we carry

Full Gutting: Removing the toe and heel cup makes the boot more comfortable. Soldiers will see a decrease in blistering around the heel area.

Drain Holes (eye-lids): Drain holes remove excess liquid from your boots, in case you are going through ankle-high (or higher) level of water.
Other Services
We also offer civilian shoe services, including repairing, resoling and reinstalling tabs on women's shoes. We can also do minor fabric and leather repairs, including sewing tough fabrics together and fixing handbags.
We also sell a large selection of Desert Combat Boots from known brands such as: Altama, Garmont, Belleville, Danner, Corcoran, Original S.W.A.T, Wellco, and Matterhorn
We ship out our inventory and our services anywhere and can offer customized work. Contact us for more information.